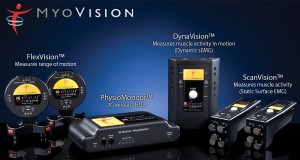 As part of the new patient intake process at Synergy Chiropractic, patients are given a full Myovision© spinal scan. The scan consists of surface EMG (electromyography), which measures the amount of electrical activity produced by skeletal muscles. A scan is conducted with wireless, handheld devices that, when placed on the muscles, show readings of nerve activity. Scans that show too much or too little nerve activity can help Dr. Gerszewski pinpoint areas of compensation.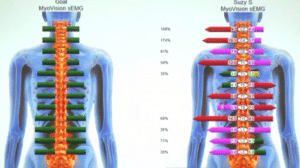 Myovision©The Myovision© scans are performed in private during the first intake appointment. The scans are interpreted by Dr. Gerszewski and her findings are then reported to you during the second private, one hour intake appointment. This technology is also used at ongoing evaluations about every 16 visits to assess your progress. At Synergy Chiropractic, we seek to understand and consider all barriers to your spinal health and all solutions. Myovision© products provide us with a unique perspective which has only helped to further our standards for chiropractic care.
---
Synergy Chiropractic offers our patient form(s) online so they can be completed in the convenience of your own home or office.
All forms are PDF files. You will need AdobeReader® to view them.
If you do not already have AdobeReader® installed on your computer, Click Here to download.
Download the necessary form(s), print them out and fill in the required information.
Fax us your printed and completed form(s) or bring them with you to your appointment.
Monday
1:00pm - 4:00pm
---
Tuesday
10:00am - 12:00pm
4:00pm - 6:00pm
---
Wednesday
1:00pm - 4:00pm
---
Thursday
10:00am - 12:00pm
4:00pm - 6:00pm
---
Friday
Closed
---
Saturday
Closed
---
Sunday
Closed